Ultimate in advanced comfort
The Breeze S brings you the ultimate in advanced comfort, performance and looks that have set the standards within the mobility scooter industry, year after year, mile after mile.
Large wheels and pneumatic tyres provide maximum ground clearance, making kerbs and rough ground quite simply a breeze, the ultimate in road presence and stability.
Everybody is different and every scooter user has different needs, which is why the Breeze S can be configured to suit individual requirements.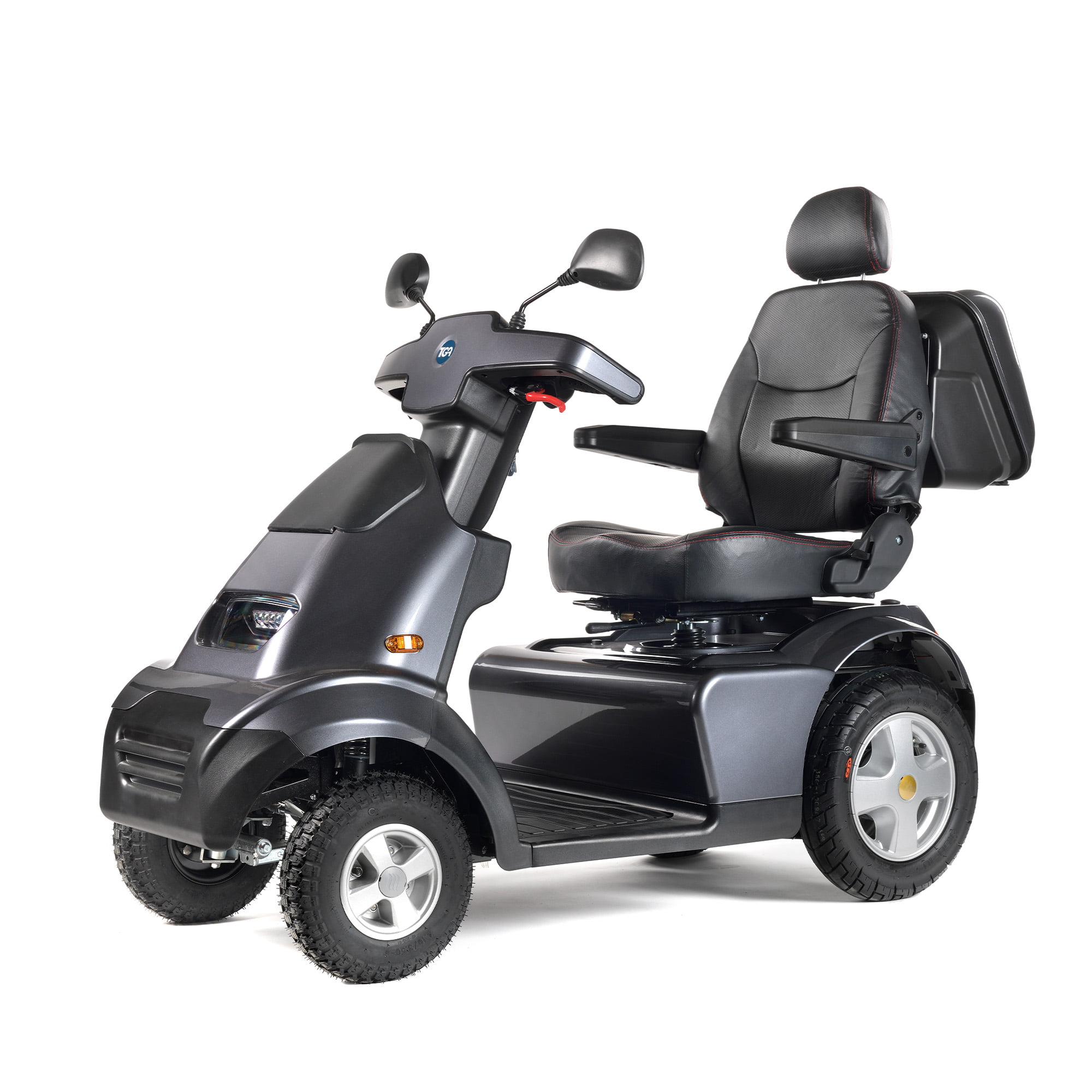 Insurance
From just £7.20 per month
Product reviews
Average Rating from 5 Reviews
Age:
Location:
Purchased from: TGA direct
By Elaine Skinner on 10/06/2021
An excellent experience.
An excellent experience from start to completion of delivery. Nothing was too much trouble for the Salesman Shaun and we never felt rushed or pressured into making a purchase. It was lovely that there was no time limit set for the demonstration and trial and Shaun was very calm and patient throughout. He thoroughly assessed if the Breeze S4 was the most suitable model to purchase (which it was). We were able to try the Breeze 'off-road' where it would actually be taken and even though it came back somewhat muddier than it started out it wasn't a problem. It was an exceptional experience and we thank TGA and Shaun and would have no hesitation in recommending your company.
Age:
Location:
Purchased from: TGA direct
By David Austin on 27/02/2021
Having looked around for several months…
Having looked around for several months for a mobility scooter, we decided on TGA and it was the best decision we could have made. Chelsea whom we spoke to was extremely helpful, gave lots of good advice, and Barry who delivered the S4 Breeze was just brilliant, my husband had a lovely test drive, Barry explained everything fully, would highly recommend this company
Age:
Location:
Purchased from:
By Jayne White on 19/06/2019
TGA Breeze S4
This is my honest review on the TGA Breeze S4 mobility scooter. Firstly, i must say that i am extremely happy with my mobility scooter, if you are going to get this scooter i would highly recommend that you get it with the hard topped perspect canopy with additional zipped all weather cover sides. It can be rolled up on a good day but on a bad cold day with rain, just unroll & zip it up, not only that but surprisingly enough it does help to keep you not only dry but its quite surprisingly warmer than youd expect. It in no way impeeds the performance nor milage of the scooter so those who will tell you different, take my word for this. It has 3 speed settings for 4mph-6mph & 8 mph, but of course you can go lower if required & travels up to 32 miles on a single charge. You have good bright lighting at night & you of course have your left & right indicators with hazzard warning lights & with 2 USB ports you can easily & quickly charge your mobile phone & or plug in security cameras or security alarms ect, which is always a good added bonus. I suffer terribly with osteoarthritis, amongst other problems but with good all round suspension this is perfect for me. You've also got a good storage box to the rear & basket at the front for all your shopping needs. It comes in 2 colours being silver & a slate grey. I personally would recommend this scooter to anyone without a word of a doubt, judge it for yourself. Take a test drive & you're sure to be hooked, but i can recommend this scooter unconditionally. I live at the top of an extreemly steep hill & its got excellent pulling power. Trust the word of someone who owns one of these beauties, never mind wot anyone else says because if you've never been on one, don't knock it, its no wonder its classed as their flag ship as it a prime example of excellence & performance, what are you waiting for.
Age:
Location: Whalley, Lancashire
Purchased from: Direct from TGA
Superb
I have had my S4 for about a month, and I continue being astonished at what an excellent machine this is. It feels solid and well built, plenty of storage, very comfortable and easy to control. Looks good, and draws admiring glances everywhere I glide. Definitely the Bentley of the mobility scooter world.
Age: 25-30
Location: Aldershot
Purchased from:
By Spiralradiouk o on 11/12/2018
outstanding
my scooter is the S4 with pedal. I've done quite a lot of miles on mine so far, battery never ever drops out, the good thing it's got USB sockets as well to power phones speakers etc. is the closest thing that you can get to a car.
Get in touch or request a call so you can chat to one of our trained advisors and we will do our very best to offer all the friendly help and advice you need.
Book a free home demonstration appointment with one of our qualified regional advisors so you can try our products with no pressure or obligation in the comfort of your own home and surroundings – making sure you get the right product for you.
We can then arrange a member of our qualified team to deliver your product straight to you, showing all the controls making sure you're confident with your new product and introducing our service and aftercare support.