Ultimate in advanced comfort
Embrace the road less travelled and take on all terrains with Supersport.
Large diameter wheels for stability and manoeuvrability like no other.
Simple and intuitive controls, all on one handlebar for ease of use.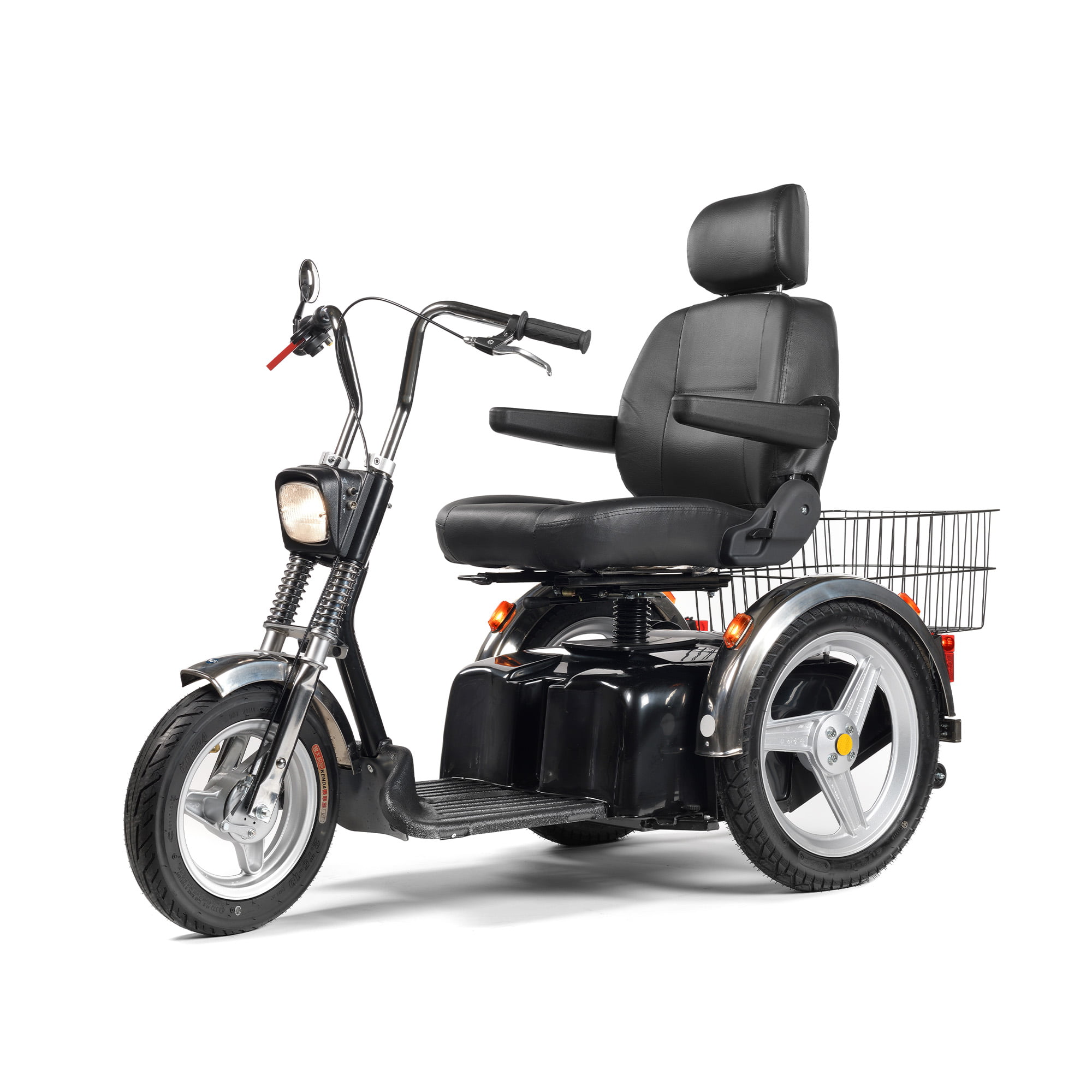 Insurance
From just £7.20 per month
Product reviews
Average Rating from 3 Reviews
Age: 65-74
Location: Sudbury, Suffolk
Purchased from: TGA Dealer
My Supersport
I have had my Supersport since 2003, it is in use most days and is invaluable to me. It is still comfortable and reliable and I would never want a different sort of scooter. I would highly recommend the Supersport to anyone. Because of its style, I don't feel so much of an old lady!
Age:
Location: Southport
Purchased from:
Got my freedom back!
I bought a used TGA Supersport in July 2019. I deliberated for about 3 months and did my research: this was all after finally coming to terms over the previous 18 months that I am now disabled at 58 after being a very active working nurse, carer to both parents and single Mum to 3, Nanny to 2 grandsons. I chose the Supersport because it could get me back in the open spaces and woods that I love and used to walk a lot. Im lucky enough to live by the coast and woodland and NT nature reserves and oh, the difference it has made to my mental well being: able to get out again, in the green light and wonderful scents of nature. My dog and grandsons appreciate it too! Its comfortable and very easy to ride with good suspension and a seat and armrests that adjust to need. Im only 4 10 and have constant pain from slipped discs in my neck and nerve pain down both arms (only part of my disabilities): I have the handlebars adjusted so the R hand one is very close to me and I can rest my arm on the arm rest and operate the speed trigger with my finger. Its sensitive without being too jumpy. It tackles many terrains with ease: only soft, deep sand and very deep mud to be avoided. It has a very tight turning circle so easy to get around obstacles or do a 3 point turn if needed. I just love it and cant imagine being without it now and am out every day, unless its pouring down or very windy. Thank you TGA for a wonderful, practical and good looking design.
Age:
Location:
Purchased from:
By Alison Jeffrey on 12/12/2019
Freedom!
I have a used TGA Supersport purchased July 2019. I'm a 59 yr woman , 4'10" bought it not so much for its looks (which many love it so much for) but for the facts that as well as pavements, it can get me "off road" and back into open spaces again, has the best turning radius I could find on a class 3 scooter, yet is very stable. The handlebars are individually adjustable which is great for my spinal problems. As I'm right handed, I have that one pulled closer and can rest my arm on the armrest and still operate the very sensitive trigger to get me moving. The seat is extremely comfy, has a great range of positions and can even recline if you fancy a quick snooze! Large footplate too, and rear basket which can be removed as needed. I would hate to be without it now. And so would my dog, Pup Pickles as we go to the beach and local nature reserves every day that it's reasonably fine. In summary, I think this is a brilliant design, practical and fun. It's improved my mental well being so much, being able to get out to wide open spaces independently.
Get in touch or request a call so you can chat to one of our trained advisors and we will do our very best to offer all the friendly help and advice you need.
Book a free home demonstration appointment with one of our qualified regional advisors so you can try our products with no pressure or obligation in the comfort of your own home and surroundings – making sure you get the right product for you.
We can then arrange a member of our qualified team to deliver your product straight to you, showing all the controls making sure you're confident with your new product and introducing our service and aftercare support.