Ultimate in advanced comfort
Be comfortable on or off the beaten path with the stylish and versatile Vita X.
Chunky tyres on large alloy wheels ensuring enhanced performance for rugged terrain.
The fully adjustable contoured seat provides complete support and rotates to make getting on and off easy.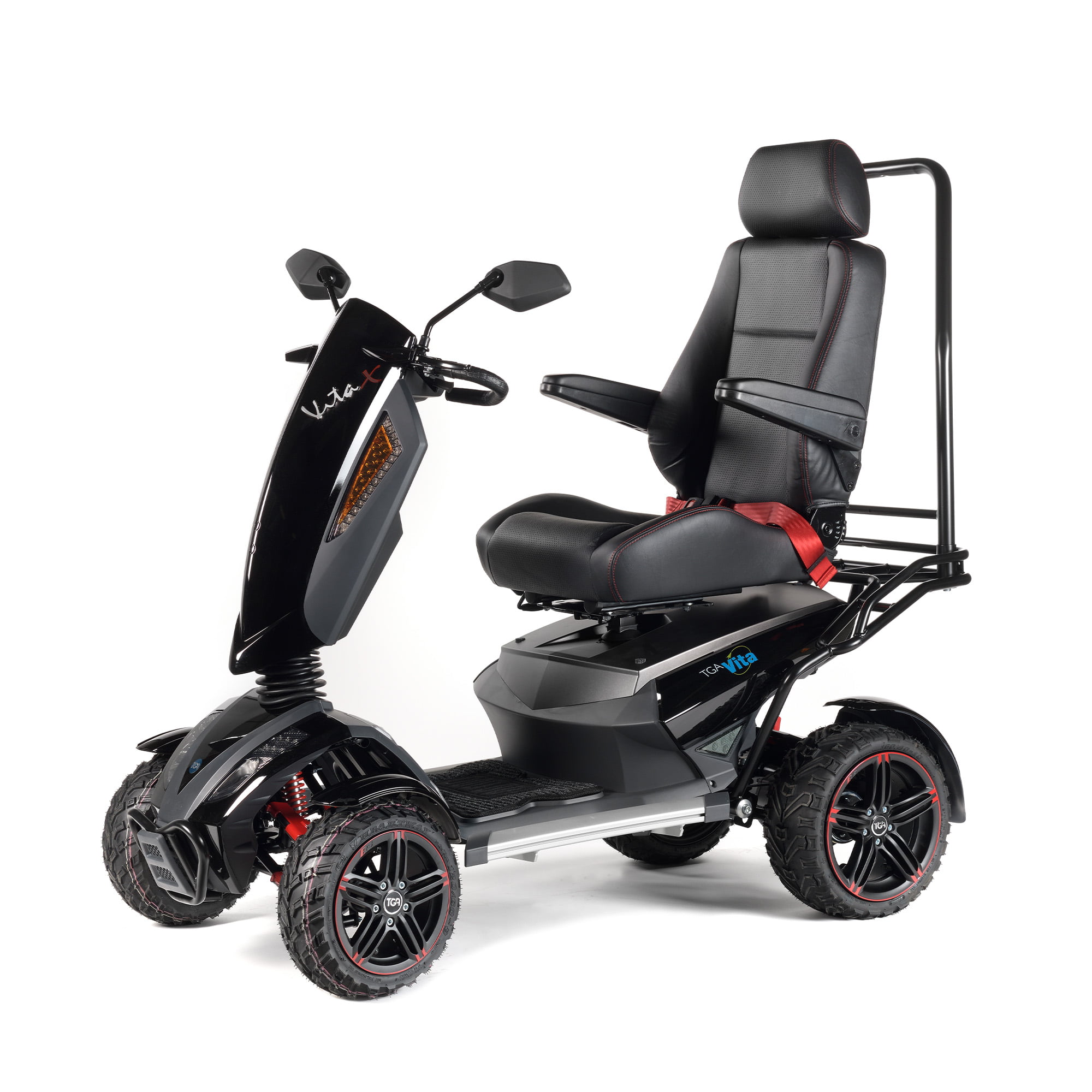 Insurance
From just £7.20 per month
Product reviews
Average Rating from 3 Reviews
Age:
Location: Cheltenham
Purchased from: TGA
By Nick Brown on 17/07/2020
My TGA Vita X has made such a massive difference to my life. Simple facts, such as being able to walk my Labrador Hugo on my own and drive with ease along countryside tracks, are absolutely priceless. I first saw what a TGA mobility scooter could do when one appeared on the BBC TV programme Top Gear – a Breeze successfully tackled a rugged Brecon Beacons hillside. I never knew some scooters had these capabilities, especially over soft and wet mud
Age:
Location:
Purchased from: TGA
By Emily Bonner on 20/10/2020
Highly Recommended
I was pleasantly surprised after first contacting TGA how accommodating they were. I had a home demo visit booked in straight away and test rode some models that I fancied from the comfort of my own home. All my burning questions were answered well and put my mind at rest. Communication was spot on over the months that followed and I'm thankful that TGA stuck with me during the prolonged period whilst I raised charitable funds towards my scooter. I'm really happy with my Vita X it's fabulous and has given me a new found sense of freedom and independence. It's really comfortable and goes some! TGA will also do what they can to make adjustments to suit your needs. I highly recommend them.
Age:
Location:
Purchased from:
By Hayley West on 20/08/2019
TGA are by far the best mobility…
TGA are by far the best mobility scooters I have a TGA vita x and it has changed my life. I need to be out and about like when I was on my bike. I can go anywhere on this scooter. It's powerful sturdy and comfortable. Having RA and DDD . It looks so sleek and smart and has a lovely comfortable seat. I would definitely recommend to anyone.
Get in touch or request a call so you can chat to one of our trained advisors and we will do our very best to offer all the friendly help and advice you need.
Book a free home demonstration appointment with one of our qualified regional advisors so you can try our products with no pressure or obligation in the comfort of your own home and surroundings – making sure you get the right product for you.
We can then arrange a member of our qualified team to deliver your product straight to you, showing all the controls making sure you're confident with your new product and introducing our service and aftercare support.