Ultimate in advanced comfort
Folds in a single movement with the press of the foot pedal for you to pop in the car boot and take anywhere.
Designed specifically for increased legroom and comfort not normally found on folding scooters.
Lightweight and airline compliant lithium battery that can be lifted out and charged separately.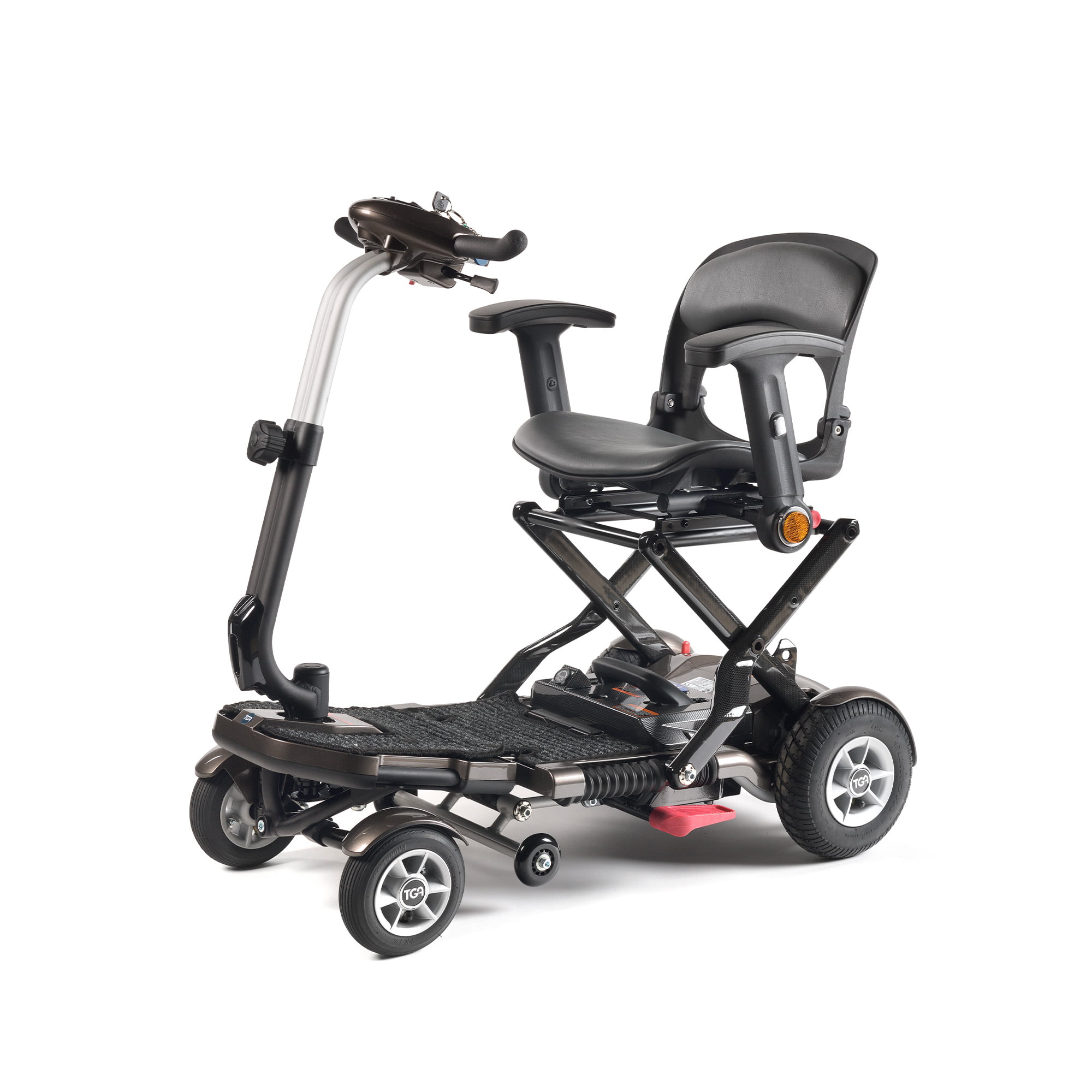 Insurance
From just £7.20 per month
Product reviews
Average Rating from 3 Reviews
Age:
Location: Timberscombe, Somerset
Purchased from: TGA
By Dan Trask on 17/07/2020
Best Mobility Scooter on the Market
I don't feel conspicuous in a bad way on my Minimo as it looks cool and nothing like an old person's scooter. It caught my eye the first time I saw one and it does the same with everyone who see its. If you are style-conscious but live with a disability, why should you have to drive an old-fashioned scooter?
Age:
Location: Crewe, Cheshire
Purchased from: TGA dealer
By Inspector29 on 06/09/2017
Would not be without it - brilliant concept
I purchased the Minimo for My wife who has another make of foldable scooter but it is very inferior to the Minimo. The Minimo feels and looks like a bigger model which gives a great feeling of security on uneven surfaces. A good looking and practical Scooter. Very pleased.
Age:
Location: Wales
Purchased from: Direct from TGA
Tga minimo
Everywhere I go I get stopped and asked where I got my scooter from. People are impressed how easily it folds down to go into the car. The scooter is very stylish functional and has been a godsend in giving me my independence back. If I had a Pound for all the enquiries I have had in the few months I've had my scooter I would be rich!
Get in touch or request a call so you can chat to one of our trained advisors and we will do our very best to offer all the friendly help and advice you need.
Book a free home demonstration appointment with one of our qualified regional advisors so you can try our products with no pressure or obligation in the comfort of your own home and surroundings – making sure you get the right product for you.
We can then arrange a member of our qualified team to deliver your product straight to you, showing all the controls making sure you're confident with your new product and introducing our service and aftercare support.