Ultimate in advanced comfort
With sporty suspension and impressive battery range, the Vita S is the perfect machine for whatever path lies ahead.
Alloy wheels and pneumatic tyres ensuring maximum ground clearance and stability.
The clean, modern design stands out from the crowd with performance and capability to match.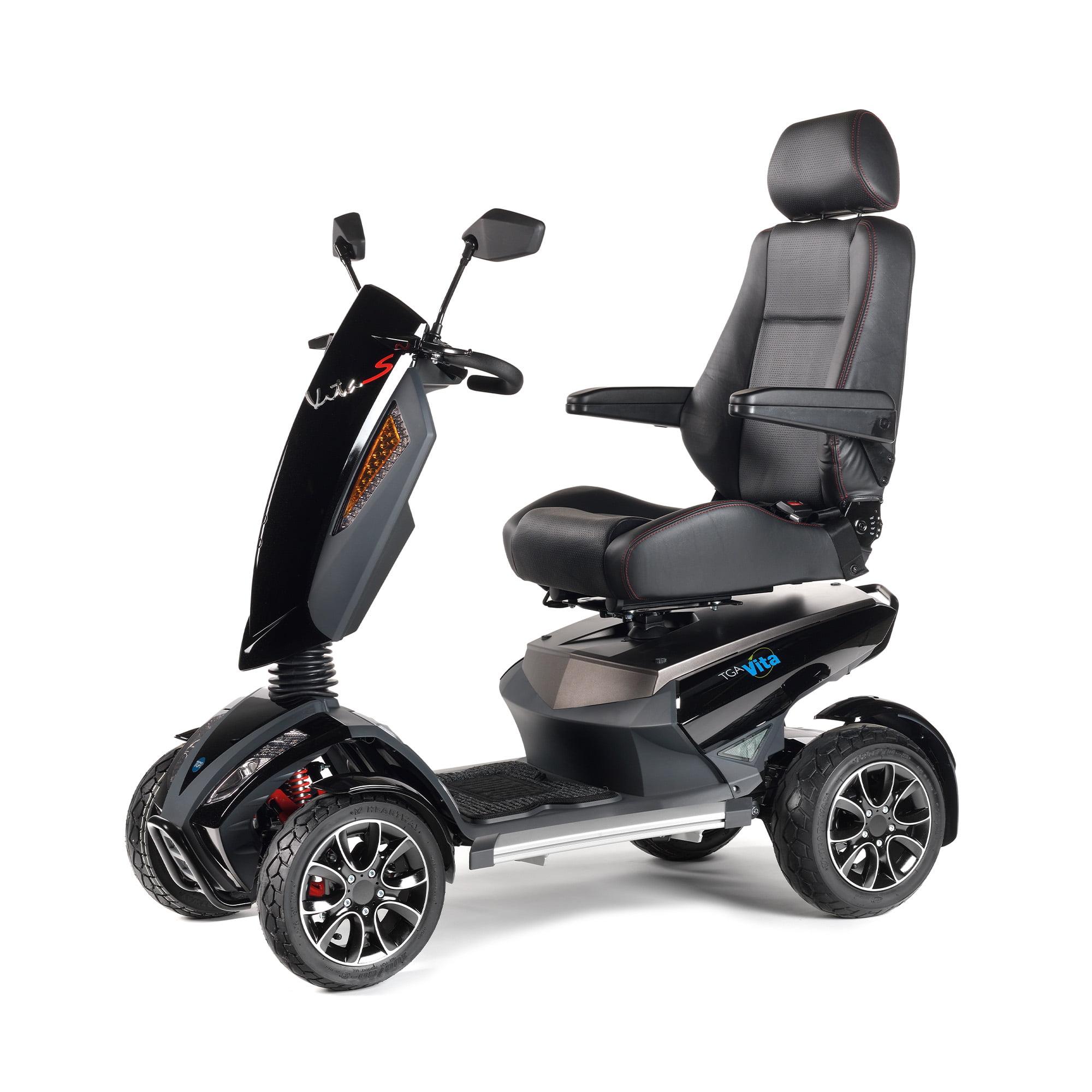 Insurance
From just £7.20 per month
Product reviews
Average Rating from 5 Reviews
Age:
Location:
Purchased from: TGA
By Karl Grant on 15/07/2021
I ordered a used TGA Vita S via TGA…
I ordered a used TGA Vita S via TGA website, I spoke with Chelsea Clerkin who dealt with me throughout and I must say, real pleasure, very professional, answered all my questions, got back to me quickly when I had questions, if I needed a new scooter, would definitely recommend. The Scooter was suppose to be delivered Thursday but had a call Tuesday and was delivered Thursday so day early, was delivered by Russ Oumsworth who again, really helpful, made sure I was ready to go and sorted all paperwork including Dvla to get scooter registered, all I can say is, total throughout, the best service and definitely would recommend and use again.
Age:
Location: Pembrokeshire
Purchased from: TGA
By Mr Hughes on 12/04/2021
My new TGA Vita Sport.
My new TGA Vita Sport. Now that lock down is easing I hope to be using my new TGA a lot ... so far very impressed!!
Age:
Location:
Purchased from: TGA
By Mrs Anderson on 03/04/2020
So pleased with my vita sport
Excellent service from Harry who was very knowledgeable and ensured a speedy delivery. Also excellent service from Gabriella at the central office who arranged the quick appointments. I love my new Vita Sport. Performs really well around all terrains I have tried so far. As a 45 year old mum and dog owner it does all I need it to. Very easy for my husband to put it in and out his van too. 5 * s
Age:
Location:
Purchased from: TGA
By Lisa Vesty on 08/10/2019
TGA Vita Sport, sleek and modern an absolute game changer!
TGA Vita Sport, sleek and modern an absolute game changer! I have owned my Vita sport now for 5 years and I can honestly say 5 years on it's still ticking all the boxes in terms of style, comfort and performance. The Vita sport is superior in comfort and style the front and rear suspension makes the drive very smooth, absorbing so much of the shock from natural obstacles like down kerb bumps etc. The seat position and chair are comfortable even when using the scooter for a long time. The Vita sport performs well on varied terrain it allows me to go on adventures with my dogs from parks, bridle paths and canal tow paths and everything in between. The Vita sport also has excellent LED lights which are always a source of conversation so many people always comment that they are better than car lights. You have high beam and low beam and they really are excellent not only do they light your way they also have a long range. They give you the added confidence if you need to go out when it's darker or in poor light that you can be seen easily by others. I would highly recommend the Vita sport it really has had an enormous impact on my life it's given me my freedom back along with the love of exploring the outdoors with my dogs with the minimum of pain.
Age:
Location:
Purchased from:
By Steve Winslade on 24/07/2019
The vita sport fantastic scooter drives…
The vita sport fantastic scooter drives very well on and off road. A great buy or on Motobilty. If you're looking for a top mobility scooter you can't go far Wrong with the vita s
Get in touch or request a call so you can chat to one of our trained advisors and we will do our very best to offer all the friendly help and advice you need.
Book a free home demonstration appointment with one of our qualified regional advisors so you can try our products with no pressure or obligation in the comfort of your own home and surroundings – making sure you get the right product for you.
We can then arrange a member of our qualified team to deliver your product straight to you, showing all the controls making sure you're confident with your new product and introducing our service and aftercare support.